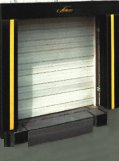 The Series 1000 Dock Seals save energy dollars while providing airtight protection to the loading dock area during material handling operations. The Series 1000 is most effective when servicing uniform vehicles at a dock having common parameters.
The vehicle positioned at the dock compresses the resilient foam pads, eliminating the gap between the facility and the vehicle body. This separation of interior and exterior environments allows for a safe loading dock area while ensuring employee comfort and efficiency.
The air-tight barrier that Fairborn dock seals provide regulates the facility's atmosphere to be free from air-borne contaminants, insects, and foul weather; while enhancing building security.
To ensure maximum durability, the Series 1000 is available in our superior performance materials. Fairborn created the first certified performance fabrics designed solely for the construction of dock seals and shelters. Our exclusive materials meet or exceed the most demanding requirements and have proven to outperform any fabric in today's dock seal market.
Series 1000 Dock Seals can be constructed in multiple configurations for various site applications.
[ Top Of Page ]
Fairborn Series 2000 Rigid Dock Shelters accommodate the widest range of truck and building variations while yielding unobstructed accessibility to the interior of the vehicle.
Non-corrosive flexible stays encased in the fabric create a uniform, semi-rigid curtain. Upon entry the curtains arch back maintaining pressure on vehicle top and sides, and the soft foam bead conforms to truck body irregularities. Non-setting stays guarantee consistent return of curtains to their original position. Foam bottom cushions seal against the vehicle while filling lower corners of shelter. Translucent fiberglass panels shelter dock area from the elements while allowing natural light penetration.
Professional seamstresses operating our sophisticated machinery combine DYNALON™ reinforcements and DYNA-ARMOR™ to critical wear areas of our superior curtain fabric. This expertise creates a unit with life expectancy far beyond industry standard. Master craftsmen utilizing hand select, kiln dried lumber and first quality raw materials assure the highest quality product in appearance and structural integrity. Our diversified machine shop guarantees precision in standard and specialized fabricated components.
Strict adherence to every detail of material and workmanship by our experienced staff produces a unit of the highest caliber. This unit will enhance the aesthetic value of your building while saving costly energy dollars.
[ Top Of Page ]