The scissors lift is the most popular type of powered loading dock equipment. Installation is quite simple and relatively inexpensive with some units being ready to go to work by merely plugging into an electrical power source. Basically, the Autoquip scissors lift is a single pantograph mechanism with the platform serving as the vertical moving link. This type of unit is usually installed outdoors and is constantly exposed to the elements. Autoquip's chrome plated hydraulic cylinder rods and pivot pins are equipped to prevent rust and corrosion.
Permanent or pit mounted models of scissors lifts are normally installed on or in front of a dock and are positioned in relation to the turning area required by the truck. A front of dock, flush with grade installation allows vehicular cross traffic in alleyways or in tight turning areas.
These scissors lifts require a shallow pit and capabilities generally range from 2,000 lbs. to 20,000 lbs.
Surface mounted, medium to heavy capacity Autoquip scissors lifts are available and are especially suited to conditions where permanent installation cannot be made, such as leased or rented facilities when alley right-of-way restrictions exist. Surface mounted lifts are designed to be easily and inexpensively relocated.
Some scissors lifts are portable and can be moved from one work area to another with relative ease. These units are ideal for the light to medium duty loading applications: crates, pallets, wire baskets or wheeled hamper carts. Portable models have capabilities up to 6,000 lbs. Because this type of unit is portable and not a permanent part of the building, it is ideal in cases where a building is rented or a common loading dock area is shared by multiple tenants. The Autoquip portable unit can also be moved indoors for protection from vandalism, theft, and undue exposure to harsh elements.
[ Top Of Page ]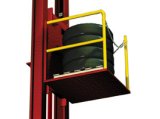 Vertical Reciprocating Conveyors (VRC) or freight lifts are made to smoothly and economically move loads weighing up to 15,000 lbs. from one level to another. Constructed for material handling applications where personnel movement is not required, they provide a very economical alternative to freight elevators. The VRC provides a safe alternative to using forklifts for moving product onto a mezzanine. Autoquip offers 4 models in the freight lift series.
Hydraulic Freightlifts standard features include:
Zero Drift Platform Stabilizer

Lubricated for Life Bushings Throughout

5 Horsepower Motor

Speeds from 15-25 f.p.m.
FreightLite™ Freightlifts – The FreightLite™ is a proven winner. It can move loads up to 6,000 lbs. from one story to another. Typical applications involve moving product to and from a mezzanine. The Freightlite™ is one of the best values in the industry. There is no pre-installation and set-up is quicker than competitive models.
Hydraulic Freightlifts – Both straddle and cantilever styles available. They are economical, easy to maintain and provide a safe way to move materials between two levels requiring less than 28 feet of vertical travel. Freightlifts are an economical alternative to forklifts or elevators with savings of up to 75%.
Mechanical Freightlifts standard features include:
Lubricated for Life Bushings on Guide Rollers

Permanently Adjusted, No Maintenance, Chain Tensioners

Main Drive Eurodrive Motor with Helical Gear Reducers

Automatic Carriage-jam Sensing and Protection with Keyed Reset

Speeds from 25 – 30 f.p.m.
Mechanical Freightlifts – Typically used when stops at multiple positions are required and access heights are up to 100 feet. Available in straddle and cantilever configurations, the mechanical freightlift allows more precise control of stop-start movements. They are operated by means of a brake motor and gear reducer with a common drive shaft. Raising and lowering of the carriage platform is accomplished with heavy-duty roller chain.
High Capacity Freightlifts – The 4-post design provides extra support for off-center and heavy loads. This makes the 4-post model good for heavy loads but also provides a wide variety of load configurations. It is used for multi-level high capacity applications and can be used as a component in automated systems.
[ Top Of Page ]